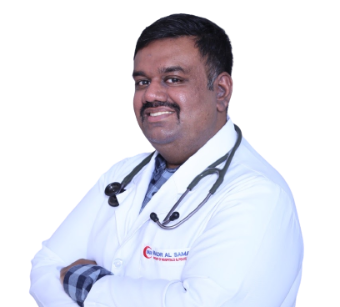 Dr Rothit Rajeevan
Specialist Internist
Internal Medicine
MBBS , MD
5 years of experience
Sur (Oman)
About Dr Rothit Rajeevan
Dr. Rothit Rajeevan has more than 5 years of clinical experience in diagnosing and treating various ailments. His areas of interest include Diabetes, Thyroid disorder, and infectious diseases.
He is the member and license holder of Karnataka Medical Council (KMC), Dubai Medical Authority (DHA) and Oman Medical Specialty Board (OMSB).
Excellence & Experience
Area of excellence
Diabetes Mellitus
Hypothyroidism
Hypertension
Infectious Diseases
Level of Experience
Dr. Rothit Rajeevan has worked with premier private hospitals in Mangalore, India before joining Badr Al Samaa Group of Hospitals.
Awards & Academics
List of awards
Dr. Rothit Rajeevan has won second prize poster presentation at APCCON, Mumbai, India (2017)
Academics Details
MBBS; Yenepoya Medical College, Mangalore, India (2009)
MD (Internal Medicine); AJ Institute of Medical Sciences, Mangalore, India (2017)
Out Patient Timings
The outpatient timings at Badr Al Samaa Hospitals have been planned in such a way that your choice of doctor is available whenever you are free.
Sunday
9:00 AM - 1:00 PM
Sur - Oman
5:00 PM - 9:00 PM
Sur - Oman
Monday
9:00 AM - 1:00 PM
Sur - Oman
5:00 PM - 9:00 PM
Sur - Oman
Tuesday
9:00 AM - 1:00 PM
Sur - Oman
5:00 PM - 9:00 PM
Sur - Oman
Wednesday
9:00 AM - 1:00 PM
Sur - Oman
5:00 PM - 9:00 PM
Sur - Oman
Thursday
9:00 AM - 1:00 PM
Sur - Oman
5:00 PM - 9:00 PM
Sur - Oman
Friday
Saturday
9:00 AM - 1:00 PM
Sur - Oman
5:00 PM - 9:00 PM
Sur - Oman