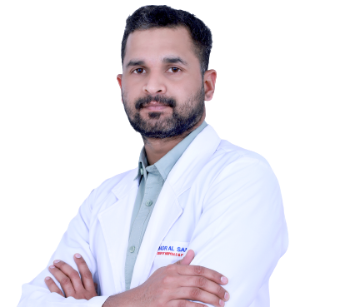 Mr Paveesh V P
Physiotherapist
Physiotherapy
BPT
10 years of experience
Sur (Oman)
About Mr Paveesh V P
Paveesh V P is an expert in physical rehabilitation and pain management and has vast experience and knowledge in both academic and clinical aspects of physiotherapy. He is also an expert in musculoskeletal and neurological rehabilitation.
He is a member of the All India Physiotherapy Association (AIPA) and KAPC (Kerala State Membership).
Excellence & Experience
Area of excellence
Musculoskeletal and Neurological Rehabilitation
Pain Management
Level of Experience
He has vast experience in prestigious institutions of Kerala, India.
Awards & Academics
Academics Details
BPT; Kannur University, Kerala, India (2010)
Out Patient Timings
The outpatient timings at Badr Al Samaa Hospitals have been planned in such a way that your choice of doctor is available whenever you are free.
Sunday
9:00 AM - 2:00 PM
Sur - Oman
5:00 PM - 10:00 PM
Sur - Oman
Monday
9:00 AM - 2:00 PM
Sur - Oman
5:00 PM - 10:00 PM
Sur - Oman
Tuesday
9:00 AM - 2:00 PM
Sur - Oman
5:00 PM - 10:00 PM
Sur - Oman
Wednesday
9:00 AM - 2:00 PM
Sur - Oman
5:00 PM - 10:00 PM
Sur - Oman
Thursday
9:00 AM - 2:00 PM
Sur - Oman
5:00 PM - 10:00 PM
Sur - Oman
Friday
Saturday
9:00 AM - 2:00 PM
Sur - Oman
5:00 PM - 10:00 PM
Sur - Oman