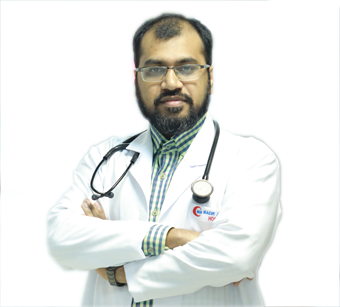 DR Syed Hossain Al Farouqui
MBBS, General Practice
Medical Officer
7+ years of experience
Sur (Oman)
About DR Syed Hossain Al Farouqui
Dr Syed Hossain Al Faruqui is a very experienced General Practitioner, having worked in many medical institutes both in Bangladesh and Oman. He handles both adult and paediatric patients and follows up with those patients having chronic conditions like diabetes, hypertension, etc. He has a special interest in diabetes and its complications and management. His work experience comes to excellent use in the care of trauma and emergency patients. He is highly skilled in providing minor surgical assistance including wound cleaning and debridement, simple suturing and skin closures. He is excellent in making quick diagnosis and providing timely dispensing of treatment.
Excellence & Experience
Area of excellence
Acute medical problems
Diabetes and its complications
Hypertension management
Allergies and asthma
Women and child health
Emergency & Critical Care medicine
Level of Experience
Badr Al Samaa hospital – 3 years
Bin Said Polyclinic, Muscat – 6 months
Care Poing hospital, Dhaka, Bangladesh – 2 years
Mohanagar Clinic, Rajshali, Bangladesh - 2 years
Awards & Academics
Academics Details
MBBS – Rajshahi Medical College, Bangladesh – 2008
2 years PG (Medicine) training - Rajshali medical College, Bangladesh
Certificate course on Diabetes – Bidlem Hospital, Dhaka, Bangladesh
Videos of DR Syed Hossain Al Farouqui
You can get to know more details here about the doctor who will be treating you, and their professional expertise in their field of specialisation.
Top Procedures Done By DR Syed Hossain Al Farouqui
Out Patient Timings
The outpatient timings at Badr Al Samaa Hospitals have been planned in such a way that your choice of doctor is available whenever you are free.
Sunday
8:00 AM - 1:00 PM
Sur - Oman
6:00 PM - 9:00 PM
Sur - Oman
Monday
8:00 AM - 1:00 PM
Sur - Oman
6:00 PM - 9:00 PM
Sur - Oman
Tuesday
8:00 AM - 1:00 PM
Sur - Oman
6:00 PM - 9:00 PM
Sur - Oman
Wednesday
8:00 AM - 1:00 PM
Sur - Oman
6:00 PM - 9:00 PM
Sur - Oman
Thursday
8:00 AM - 1:00 PM
Sur - Oman
6:00 PM - 9:00 PM
Sur - Oman
Friday
Saturday
8:00 AM - 1:00 PM
Sur - Oman
6:00 PM - 9:00 PM
Sur - Oman
Blogs Written by DR Syed Hossain Al Farouqui