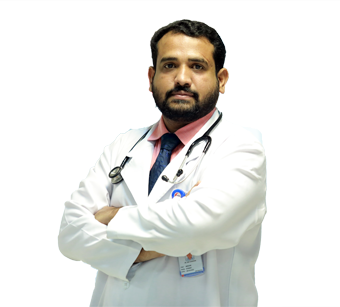 DR Jinu Chandran
Specialist
Internal Medicine
MBBS, MD
7 years of experience
Sur (Oman)
About DR Jinu Chandran
Dr Jinu Chandran is an outstanding Specialist in Internal Medicine and has over 5 years of excellent experience, having trained and worked in some of the best hospitals in Kerala, India. He manages both chronic and acute cases and is excellent in making quick diagnosis and providing timely treatments. He follows up with his patients and has interest in diabetes and its complications as well as rheumatological disorders. His services as a physician come in handy in the emergency section too where he manages acute cases related to cardiac emergencies, asthma attacks, etc. Dr Jinu Chandran regularly attends CMEs and conferences.
Excellence & Experience
Area of excellence
Diabetes and diabetic complications
Thyroid disorders
Hypertension
Rheumatological disorders
Emergency & Critical Care medicine
Level of Experience
Junior Consultant – District Hospital, Pathanamthitta, Kerala, India – 2014-2015
Specialist Internist – KTCT Hospital, Attingal, Kerala, India – 2015-2016
Specialist Internist – Badr Al Samaa Hospital, Sur – 2016 to Date
Awards & Academics
Academics Details
MBBS – Medical College, Trivandrum, Kerala, India - 2009
MD (Internal Medicine) – Medical College Trivandrum, Kerala, India – 2011-2014
Out Patient Timings
The outpatient timings at Badr Al Samaa Hospitals have been planned in such a way that your choice of doctor is available whenever you are free.
Sunday
9:00 AM - 1:00 PM
Sur - Oman
5:00 PM - 9:00 PM
Sur - Oman
Monday
9:00 AM - 1:00 PM
Sur - Oman
5:00 PM - 9:00 PM
Sur - Oman
Tuesday
9:00 AM - 1:00 PM
Sur - Oman
5:00 PM - 9:00 PM
Sur - Oman
Wednesday
9:00 AM - 1:00 PM
Sur - Oman
5:00 PM - 9:00 PM
Sur - Oman
Thursday
9:00 AM - 1:00 PM
Sur - Oman
5:00 PM - 9:00 PM
Sur - Oman
Friday
Saturday
9:00 AM - 1:00 PM
Sur - Oman
5:00 PM - 9:00 PM
Sur - Oman