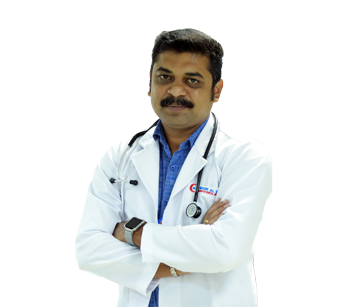 Dr Abhilash V
Sr. Medical Officer
Paediatrics & Neonatology
MBBS, DCH
20 years of experience
Sur (Oman)
About Dr Abhilash V
Dr Abhilash is a very experienced Senior Medical Officer in Paediatrics and Neonatology and is very caring and compassionate towards his young patients. He has over 16 years of varied experience in caring for paediatric patients, cultivated during his work tenures in various hospitals in India as well as Oman. He is an expert in treating cases of infectious as well as non-infectious disease conditions. He also manages issues related to growth and nutrition in children and is an expert in neonatal care and management of low birth weight babies. He is excellent in handling paediatric emergencies too.
Excellence & Experience
Area of excellence
Childhood infections
Vaccination
Growth and nutrition
Neonatal resuscitation
Paediatric emergencies
Level of Experience
Post MBBS – Worked in Vijaya Hospital, Kottarakara, Kerala, India
Post DCH – Anchal Hospital, Anchal, Kerala, India
VLF MCH and Punalur Pranavam Hospital, Punalur, Kerala, India
Awards & Academics
Academics Details
DCH - SSML, Tumkur, India - 2013
MBBS -TDMC, Allepey, Kerala, India-2003
Out Patient Timings
The outpatient timings at Badr Al Samaa Hospitals have been planned in such a way that your choice of doctor is available whenever you are free.
Sunday
9:00 AM - 1:00 PM
Sur - Oman
5:00 PM - 9:00 PM
Sur - Oman
Monday
9:00 AM - 1:00 PM
Sur - Oman
5:00 PM - 9:00 PM
Sur - Oman
Tuesday
9:00 AM - 1:00 PM
Sur - Oman
5:00 PM - 9:00 PM
Sur - Oman
Wednesday
9:00 AM - 1:00 PM
Sur - Oman
5:00 PM - 9:00 PM
Sur - Oman
Thursday
9:00 AM - 1:00 PM
Sur - Oman
5:00 PM - 9:00 PM
Sur - Oman
Friday
Saturday
9:00 AM - 1:00 PM
Sur - Oman
5:00 PM - 9:00 PM
Sur - Oman